Photo Stream shares photos with the people you care for
A year ago Apple added Photo Stream to iOS, letting users sync pictures taken with the phone with all of their iCloud-compatible devices. Now in iOS 6 there's Shared Photo Stream, which acts like a social sub-network, built right into the Photos app.
You will be able to choose what pictures to share and which people to share with. Your buddies on the receiving end will be able to like them and post comments.
Photo Stream works really well and is very simple to set up. You can invite users you want to share your Photo Stream with via email or get invited.
You can also add comments and like pictures in Photo Stream.
Otherwise the Photos app is all but the same. The main album is the Camera Roll, which houses all of the pictures you have taken. You can sort any of these pictures in albums, which are created with the + symbol at the top of the albums view.
There's Facebook integration in Photos now, meaning you can post pictures directly to the social network. The sharing menu has also been slightly overhauled - AirPrint is available straight through the sharing options so you can now easily send pictures to AirPrint-compatible printers. The Use as Wallpaper option has a new icon and there's a new Copy icon too.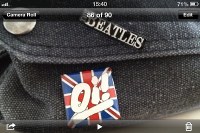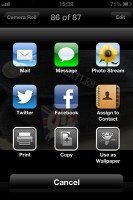 Viewing a photo • Sharing options
Marking photos is done pretty much the same way. You can share multiple photos to Facebook, a Photo Stream, via Messages or through Mail. You can also add the desired photos to a new album or delete them.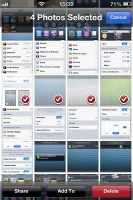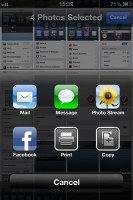 Marking photos • Sharing options
Sharing a photo to Facebook is done via the same pop up window we saw in the Notifications. You still get to choose who can view the picture and decide whether you want to add a location to the post.
The photo editor enables rotation, cropping, and red-eye removal. There's also an option called Enhance over which you have no control - it's all automatic. In Edit mode four keys appear at the bottom for the available editing options.
You can auto enhance photos, crop freely or select an aspect ratio you wish to crop the photo to.
You can also trim videos.
Music player gets lighter
The Music player in iOS 6 has retained its functionality but now comes in a lighter finish. Menus are light grey and the tabs at the bottom are slightly redesigned.
You can create playlists, delete songs right from within the player and reorder tabs whichever way you like.
Cover Flow is still there - you access it by flipping the device landscape. It lists all the covers to the albums you have in your library. Tapping on an album thumb lists all the tracks in it.
The Now Playing screen hasn't changed in functionality but the color theme is different. The repeat and shuffle toggles are no longer blue, instead Apple chose to make them orange.
Settings haven't budged an inch, which we find disappointing. Even in its sixth major iteration iOS still fails to offer configurable equalizers.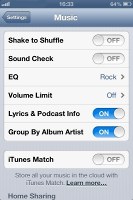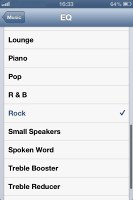 The Music player settings • No visual equalizer
Video player ignores XviD and DivX
The video player on iOS 6 looks and acts the same way it did in iOS 5. It has a pretty simple interface, you get a scrollable timeline, a Fullscreen toggle, which removes the black bars around the video but crops some of the pixels along the way.
At the bottom there's the all too familiar volume toggle with play/pause and skip controls.
The player doesn't have DivX and XviD support. You get H.264, mov, MPEG-4 and M-JPEG support, but no avi files are playable. To play those, you can either have iTunes convert them beforehand or just download a third-party video player off the AppStore, which can play them.