Organizer and apps
The iOS Calendar app hasn't seen much visual changes but does benefit greatly from the Facebook integration. Birthdays and events from Facebook are immediately synced with your calendar but you still get the option to omit them from the Calendars tab.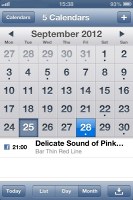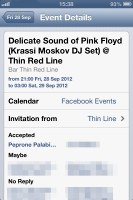 Facebook events in Calendar
Otherwise the interface is the same. You can view by list (iOS's agenda variant), day and month. There's also a toggle to get back to today if you've strayed too far back or forth.
Switching over to landscape automatically opens up weekly view, which lists all of your events in a side-scrollable fashion. Events are color-coded so you can recognize what's what.
Creating an event is done the same way as before. You can choose which calendar you want the event to be synced with, add a location, additional notes and set up an alert.
Here is the Calendars tab. You can customize the iCloud personal and job-related event colors to your liking. You can also create additional calendar entries, for example if you have two jobs, etc.
The Reminders app has a pretty simple interface doing some basic but important stuff. There are two viewing options - by date or a list. Both of them start with a Completed list as a first pane.
In the List view you have the option to add different lists - the default one is the events on your phone. But you can add list for iCloud or Gmail reminders for example. All lists appear as different panes.
Viewing by date gives you lots of panes - you start with Completed and then you have one pane for each day you have events for. You also get a Calendar shortcut, where you can choose easily the day you want.
When you choose to create a new reminder, first you must type its name directly on the pane and click Done. After that, you are able to edit (just tap on it) - you can choose the Type of reminder - by date or location, Due option, Priority and to which list it will belong (iPhone, iCloud, Gmail etc.).
If you want to be reminded on the day of the event, you just choose date and time.
A novel feature is the location-aware reminder triggering option. You can choose a location from your phonebook or your current location and then you choose whether you like the reminder to activate on arrival or departure.
As we said earlier, you can also set a reminder to call someone on a location or leaving the current one. Both location aware features are nifty but they would undoubtedly take their toll on battery life.
Voice Memo is on-board as well. You can capture practically unlimited voice memos and send them to others via a message or mail.
The Calculator app hasn't been changed for some time now. It still works really well. You can enter scientific mode when going landscape.
The Clock app has world clock, alarms, stopwatch and timer. You can now set any of the songs in your music library as an alarm sound. You can also choose from your custom ringtones.
The stopwatch and timer apps have remained unchanged. You can set a timer notification from your music library too.
Weather has been slightly revamped. The weather cards are now cleaner in design and slightly darker too. As usual, weather info is sourced from Yahoo and years of use so far have proven it's not always the most accurate source of forecast information - of course, that may depend on your country.
iBooks offers various font and color settings, but on a screen this size, it's just not the best e-reading experience. Pages are side-scrollable only and on a mobile phone that doesn't quite make sense.
The iBooks app is also a PDF viewer.
You can choose different fonts, reduce and increase the text size, change the background and play around with brightness.
There are many quality apps in the App Store. Many of them paid and some that are free. Whether you're looking for organizing ones or just plain entertainment ones you can fill in the gaps very easily.
Accessibility
Accessibility is focused on helping users with handicaps to interact with their iPhone in a more comfortable way. VoiceOver will narrate you through the phone's menu, Zoom and Large Text will improve the usability for people that have trouble seeing small text, etc.
The iPhone can use the LED flash for alerts and you can assign and even create custom vibration alerts to specific events or contacts - much like you would assign a personalized ringtone.
The Assistive Touch is another useful feature. By activating it you get a new on-screen key that stays available throughout the UI, even on the lockscreen and in games. It's shaped as a homescreen icon and offers a few useful menus.
You can easily move the key in one of the four corners of the screen at any time. Tapping on it reveals four shortcuts - Gestures, Device, Home, Favorites. Every shortcut, except the Home key, opens another submenu.
The Gestures shortcut allows you to simulate two, three, four or five-finger tap. The Device shortcut will allows you to rotate the screen (if available), lock the screen, use the volume controls and even simulate a device shake.
In the Favorites section you have a Pinch gesture shortcut and you can additionally assign six more custom gestures. You just need to perform them once so the iOS can save them.
The Home virtual key has the same functionality as the hardware Home - you can single/double/triple click it for the relevant commands.
The Assistive Touch is a pure accessibility option that helps you control everything in the iOS with let's say just one finger.
Lost Mode and Guided Access
The last two features we are going to mention are the Guided Access and the Lost Mode.
The Guided Access locks the iDevice to work with a single app only. It cannot be closed unless Guided Access is disabled. While active - all hardware controls are disabled - lock, home, volume and switch. When configured, you launch an app, then triple-tap the Home key, enter the password and done - the iGadget is now locked on to this specific app until you triple-tap the home key again and enter the right password.
This means that the Guided access could work quite well as as kid or test mode. It will allow you to give your iDevice to your kid without being worried that it will access inappropriate content or mess up your settings and apps.
The Lost Mode is part of the former Find My iPhone service. If you lose your gadget, you can lock (but not wipe) it remotely and send a message with your contact (and possibly, reward) information.