Camera gets Panorama boost
The camera interface has seen some cosmetic changes too, over the previous iOS build. The shutter button is silver but the main color theme is now dark.
The new feature that got a lot of attention is the new Panorama mode, which is available for the iPhone 5, iPod Touch (5th generation) and the iPhone 4S. It won't available on the New iPad's 5MP iSight camera just like the HDR mode before it.
Panorama mode is accessed through the Options tab in the camera app. It works only in portrait mode and has an easy and intuitive process. You just move the device from left to right and the software will automatically tell you to slow down or speed up.
The stitching process is very fast and when done properly you won't notice where the individual photos have been patched up. Images come out with a maximum resolution of 28 megapixels and are saved in regular JPEG format.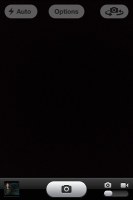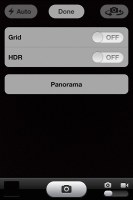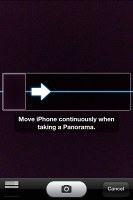 The new Camera design • Panorama
Other than that, nothing has really changed. You can enable a grid in the viewfinder to help you with framing or you can turn on the high dynamic range mode. It shoots a couple of shots simultaneously with different exposures and outputs a single photo with increased dynamic range. You can opt to preserve the original photos too.
The camcorder on iOS hasn't seen much change in iOS 6 either. On the iPhone 5 you also get a shutter key in video recording mode so you can capture 1920 x 1080 stills while shooting video, which is a serious step back from the full 8 MP photos, taken with the HTC One S, One S, Samsung's Galaxy S III and Note II. This button is not available on the iPhone 4S.
Safari goes full-screen
The Safari web browser has stepped its game up a bit in order to compete with Chrome, which is available and working pretty well on iOS.
For starters there's iCloud tab syncing, a new full-screen mode in landscape and page loading seems overall faster than before.
The user interface of Safari hasn't really changed and what we still miss is a unified address/search bar like on the desktop Safari.
iCloud tab syncing is enabled, along with offline reading. Finally, the new Safari allows access to your multimedia content without exiting the browser. You can also share pages on Twitter and Facebook.
The new full-screen mode is available only in landscape, which makes sense. It would have been better if Apple had found a simpler way of activating it, like a double tap or pinch gesture but the dedicated virtual button still does a fine job.
Once in full-screen mode, you get a shortcut, which reveals three onscreen buttons: Back, Forward and Exit Full-screen.
You can also bookmark pages to the Reading List to view offline.
If a page is compatible with the Reader (most of the article pages out there are) you get a Reader button right into the address bar as soon as the page loads. The Reader strips the webpage of ads and makes the layout and fontsize more suited to the smaller phone screen. And best of all, if you are reading a multi-page article (such as our reviews) getting from one page to the next is automatic as soon as you scroll to the end.
You can set the font size via two controls at the top, and also there's a built-in dictionary to look up unknown words.
All iGadgets have a Private Browsing option in the Safari settings (Settings->Safari). If you turn it on, nothing you do in the bowser will leave a trail on your phone - no browsing history, no search history, no usernames or passwords, etc. The only thing nicer than Private Browsing itself would have been a dedicated key within the Safari UI, instead of a lonely toggle in the Settings menu.
In the advanced settings you can find very detailed web browsing data and delete all of it or some specific site-related data only (such as Google Search).
In iOS 6, Apple decided to change the way your browser displays network and page loading errors. Instead of the previous countless pop ups that annoyed the living hell out of users Safari now just displays a "cannot open the page…" screen - clean and simple.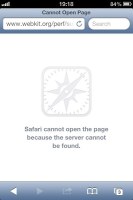 The new "Cannot Open Page" view
Here are some JavaScript and other benchmark scores, compared to iOS 5 and iOS 6 beta.
SunSpider
Lower is better
iPhone 4S iOS 5.1.1
2237.1
iPhone 4S iOS 6 beta 1
1751.3
iPhone 4S iOS 6
1726.2
BrowserMark
Higher is better
iPhone 4S iOS 5.1.1
89054
iPhone 4S iOS 6 beta 1
109145
iPhone 4S iOS 6
106246
HTML5test.com
Higher is better
iPhone 4S iOS 5.1.1
324+9
iPhone 4S iOS 6 beta 1
360+9
iPhone 4S iOS 6
360+9