Rain or shine
Sony Xperia Z3 Tablet Compact review: Rain or shine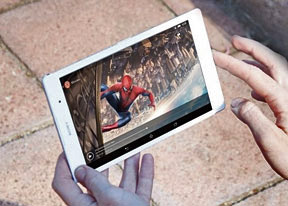 Latest Android KitKat with latest of Sony
The Sony Xperia Z3 comes with the latest Android 4.4.4 KitKat out of box with the latest Sony improvements to its custom Xperia overlay. As usual Sony's additions are thinly draped over stock Android, which many view as an advantage over competing skins.
The lockscreen is enhanced from the stock version. It supports widgets (one per pane) and has a camera shortcut at the bottom. Sony's contribution here is double-tap to wake feature, which saves you the trouble of reaching for the screen.
Waking the screen is one thing, for unlocking the tablet you can enable Face, Pattern, PIN or Password unlock, in ascending order of security.
The Xperia Z3 Tablet Compact lets you add or remove homescreen panes (you start with five) and set any of them as default. You can't have more than seven panes at any given time though, nor can you change the order they're in.
In the top left corner there are Google Now and Voice search shortcuts, which are visible on all homescreen panes though you can disable them.
Customization options start from adding widgets but also include changing the theme of the interface, which modifies the wallpaper, system colors, status bar elements and UI controls. Themes are available for download from the Play Store, some of which are paid.
The notification area splits notifications and quick toggles into two different tabs. A one finger swipe from the top opens notifications, while two fingers open toggles. The toggles are customizable and you can choose between 20+ different toggles and have up to 12 of them visible on their dedicated pane.
The app drawer is laid out across multiple pages and you can sort the apps manually, alphabetically, by the most used or most recently installed. The menu with these settings is accessible via a swipe from the left edge of the screen and you can also search and even uninstall apps from there.
The Xperia Z3 Tablet Compact app switcher lets you switch between recently opened apps, as well as terminate them with a side-swipe.
There are shortcuts to the so-called "small apps" inside the app switcher interface. They are small floating windows with widget-like applications, which you can move around and use without having to open the full-fledged app. So far, there's a default set of eight: Active Clip, Chrome Bookmarks, Browser, Calculator, Calendar, Gmail, Timer, and Touch Block. You can launch only one instance of a Small App, but you can open multiple Small Apps simultaneously.
You can download more Small Apps off the Play Store or use the option to turn your favorite widgets into Small Apps. Just hit the Plus key at the top of the list and choose a widget.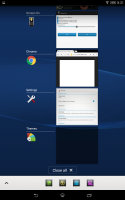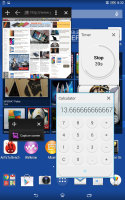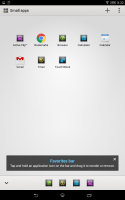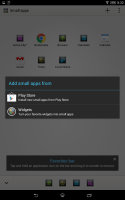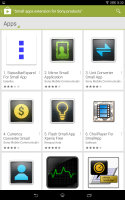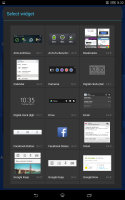 Task switcher • Small Apps in action • Small apps UI • Download more small apps
Naturally, you can access Google Now by swiping from the bottom of the UI. There's another shortcut right next to the Google Now launch key called What's new. This app has a very slick UI and will show you the hottest apps and multimedia today. It isn't limited to just the Google Play Store, and will display content from Sony's PlayStation store too.
Back to Google Now, it integrates with your Google account and can access your daily routine, internet searches, email, etc. and give you information relevant to your interests and daily needs.