Rain or shine
Sony Xperia Z3 Tablet Compact review: Rain or shine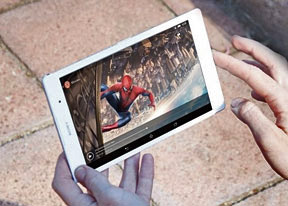 Album
We should all be familiar with Sony's custom gallery - Album. It organizes images into groups of thumbnails and sorted by date. You can change the thumbnails size by pinching. The top half of the screen is a slideshow of your photos (tap to view the current photo). Thumbnails can be resized with a pinch zoom gesture.
The gallery sorts photos by camera roll, folders, favorites, by people's faces or by location. DLNA is supported out of the box (both viewing and sharing photos) and you can view your Facebook, Flickr and Picasa albums. PlayMemories, Sony's own online album, is available too, of course.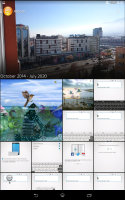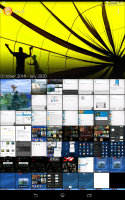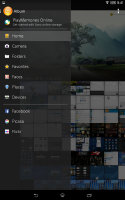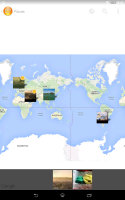 Album • adjustable thumb size • DLNA and online album support • map view
There's a slideshow using the SensMe brand and much like the music player feature, this one scans files and groups similar photos together.
Editing can also be done from within Album app. It pops up a minimalist interface very similar to Google's Photos app, offering the ability to enhance your photos with a verity of filters, as well as adjust from a slew of settings including hue, levels, curves, and many more. Images can also be cropped or rotated directly in the gallery.
The app lets you manually add geo-location info and name faces in photos, which is handy for organization.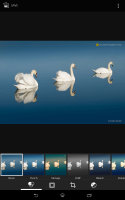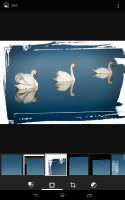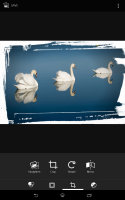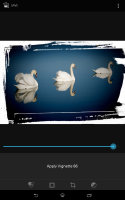 Editing is compact yet powerful
The Sketch app is a more artistic editor with various drawing tools, stickers, text and other tools. You can download new stickers and enable online syncing via a Sony account.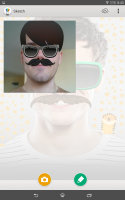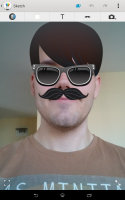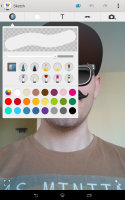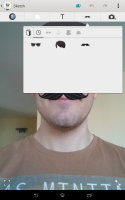 The Sketch app brings fun into photo editing
Finally, there is the Movie Creator. It automatically creates small video clips from your pictures taken with the camera. It does its magic automatically, a lot like HTC Zoe.
Walkman player with noise cancellation
The Walkman music player is part of the equipment of all recent Xperia devices. It now features wider audio support - in addition to popular formats such as MP3, AAC, WAV, the Walkman player also handles ALAC and FLAC.
It features Music Unlimited integration and is not above trying to sell you songs, but you can hide the Music Unlimited stuff.
The Walkman interface is based on a hidden swipe-able menu that sorts your music collection by Artist, Albums, Playlists, Folders and DLNA devices. The Playlists option includes SenseMe, which automatically sorts photos into several categories like energetic, relax, upbeat, mellow and so on, there are nine options in total.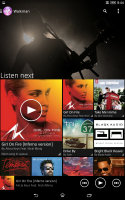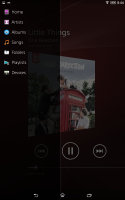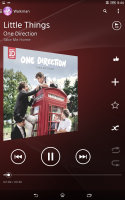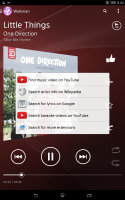 Walkman player • filtering the library • Infinite button
The Infinite button is available in the Now Playing screen (just tap the album art) - it will help you find the track's video on YouTube, look up info about the artist on Wikipedia and search for lyrics on Google. You can also post about a song on Facebook from here. Several visualizers are available for a bigger show.
Gracenote is used here too and it can automatically download information about your tracks and album art, but you can edit info manually. Track ID is on board for identifying songs.
Digging into the settings your can select custom presets for a wide range of Sony headsets, including one for the Sony NC31E/EM noise cancelling headset. This one is not bundled though as it is with the Z3 and the Z3 Compact.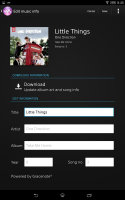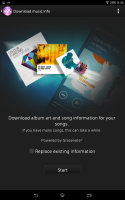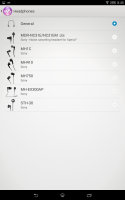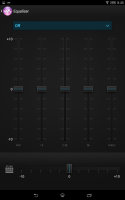 Manual editing and automatic track info download • noise-cancelling headphone support • 5-band equalizer
The Walkman player offers a variety of audio settings - ClearAudio+ option is here, which determines the best audio quality settings depending on the song you're listening to. We liked how it changed the music and carefully accentuated various details. Dynamic normalizer evens out the differences in volume between tracks, which is great if you've mixed multiple albums from multiple sources.
The Sound effects contain yet more settings. There's a 5-band equalizer with presets and manual settings (including tweaking Clear Bass). Then there's S-Force Front surround and Surround sound mode (VPT), which imitates the Studio, Club or Concert Hall experience.
The Xperia Z3 also includes Sony's Digital Sound Enhancement Engine (DSEE), which upgrades the quality of compressed music files by using upsampling, but as can be expected from such an operation the results are hardly spectacular. We'd suggest you steer away from it as the added artifacts don't justify the benefits.
Speaker settings include Clear Phase, which adjusts the quality, while xLOUD boosts up the internal speaker. For external speakers you can output Hi-Res audio to USB DAC amps.
FM radio
The FM radio features RDS support to display radio info, but you can also use Track ID to recognize the currently playing song. You can also post about it on Facebook to show your friends how old-school you are. The radio interface is fairly simple so visualizations are enabled by default to fill in the screen.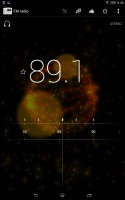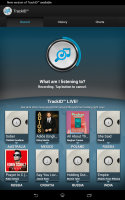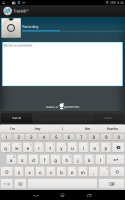 FM radio with visualizations • built-in track recognition • posting a short recording on Facebook
Movies
The video playing app is dubbed Movies and it too has a great custom UI. It's connected to Gracenote, which helps you find additional information about the movies you have on the phone. It will even download posters and metadata like genre, synopsis, director and cast.
Unfortunately, this doesn't work very well for TV shows - it doesn't recognize the S01E02 format and won't pull info about individual episodes. It gets worse, Gracenote seems to be lacking info on TV shows in general, and we couldn't find even popular shows like The Big Bang Theory.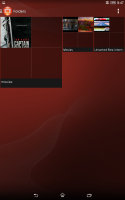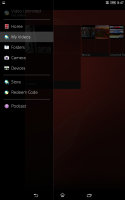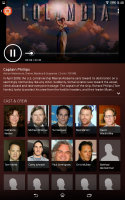 Video player with HTPC-like functionality
The tablet can recognize what's playing on your TV too, not just what files are on your tablet. The Track ID TV app is the TV show equivalent of the song recognition app.
The Sony Xperia Z3 Tablet Compact was able to play most of the video files we threw at it but had some issues with AC3 audio and videos that combined AAC audio with the AVC video codec. MOV files played without problem, a rarity on an Android device. In any event, you can always download a more capable (codec-wise) third-party app from the Google Play store.
The video player supports subtitles, and you can customize their looks. Unfortunately, you cannot manually pick the subtitle file, it has to reside in the video folder to load up.
Video Unlimited is a movie and TV show store where you can purchase content to watch on your tablet.
Audio quality is solid
The Sony Xperia Z3 Tablet Compact did decently in our audio quality test. The active external amplifier trial ended with very good scores and average loudness - not quite the best in either clarity or volume but good enough for the vast majority of users.
Plugging in a pair of headphones brought some extra stereo crosstalk, but the overall performance remained solid and it will take a very pretentious audiophile to find something wrong with it. We have seen better from flagship slates, but the Xperia Z3 Tablet Compact will certainly do its music playback job fine.
Check out the table and see for yourself.
| | | | | | | |
| --- | --- | --- | --- | --- | --- | --- |
| Test | Frequency response | Noise level | Dynamic range | THD | IMD + Noise | Stereo crosstalk |
| Sony Xperia Z3 Tablet Compact | +0.02, -0.08 | -81.4 | 81.4 | 0.013 | 0.019 | -83.5 |
| Sony Xperia Z3 Tablet Compact (headphones attached) | +0.10, -0.01 | -81.3 | 81.3 | 0.022 | 0.049 | -52.7 |
| Xiaomi Mi Pad | +0.04, -0.42 | -92.0 | 90.1 | 0.0055 | 0.069 | -88.4 |
| Xiaomi Mi Pad (headphones attached) | +0.02, -0.43 | -91.6 | 89.8 | 0.375 | 0.335 | -46.3 |
| Samsung Galaxy Tab S 8.4 | +0.05, -0.02 | -95.7 | 92.3 | 0.0044 | 0.0096 | -96.0 |
| Samsung Galaxy Tab S 8.4 (headphones attached) | +0.01, -0.05 | -95.7 | 92.1 | 0.012 | 0.014 | -44.4 |
| Samsung Galaxy Tab Pro 8.4 | +0.02, -0.07 | -93.3 | 93.3 | 0.0019 | 0.011 | -89.2 |
| Samsung Galaxy Tab Pro 8.4 (headphones attached) | +0.04, -0.06 | -93.1 | 93.1 | 0.0074 | 0.037 | -70.2 |
| LG G Pad 8.3 | +0.14, -0.11 | -93.8 | 92.9 | 0.0021 | 0.0082 | -93.8 |
| LG G Pad 8.3 (headphones attached) | +0.29, -0.11 | -90.7 | 92.7 | 0.0074 | 0.208 | -53.6 |
| Google Nexus 7 (2013) | +0.00, -0.23 | -92.2 | 92.3 | 0.036 | 0.020 | -92.3 |
| Google Nexus 7 (2013)(headphones attached) | +0.83, -0.12 | -92.4 | 92.3 | 0.010 | 0.208 | -49.3 |
| Apple iPad mini 2 | +0.04, -0.39 | -93.8 | 93.7 | 0.0011 | 0.0067 | -82.9 |
| Apple iPad mini 2 (headphones attached) | +0.11, -0.00 | -93.6 | 93.6 | 0.0023 | 0.030 | -62.2 |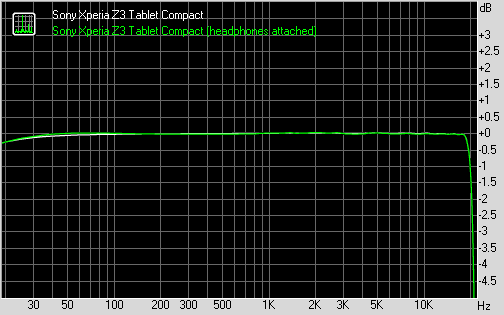 Sony Xperia Z3 Tablet Compact frequency response
You can learn more about the tested parameters and the whole testing process here.