App package
Microsoft has promoted Storage Check and Battery options to stand-alone apps, though they can still be found in the Settings menu.
Storage Sense tracks your internal memory and allows you to configure which content will be saved where. You can choose between internal storage and SD card as default location for multimedia content (music, videos, podcasts), new photos (camera), new apps as well as new downloads. You can even transfer installed apps from your phone's memory to the microSD card.
Battery Saver now not only shows you the battery percentage and allows you to configure when the battery saver goes on, but it can now tracks battery usage too. You can see which app used most power since your last recharge so you'll know which app or service is draining your battery juice. You can also allow or restrict apps to run in background while the battery saver is turned on. Unfortunately, we still didn't get the option to display the battery percentage on the status bar - you only get the exact number when you open the notification area.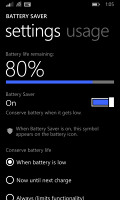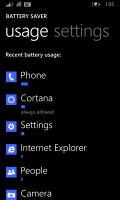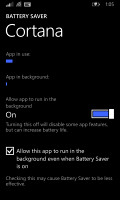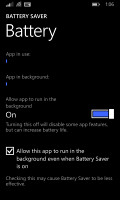 Battery Saver • tweaking app behavior
The Calendar now supports Weekly view. It's really comfortable, the days are expandable in case you have more events than the small square can show, this mode even searches for weather forecast and displays it with small icons on each day.