The Big Bang
iPhone 6 Plus vs. Galaxy Note 4: The Big Bang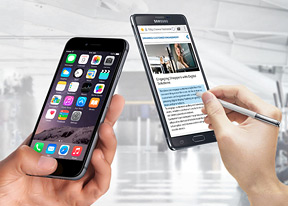 User interface (continued)
Multitasking
Samsung has a more PC-like approach to multitasking with the Multi-Window feature. It splits the sizeable Galaxy Note 4 screen in half so two apps can be used at the same time - there are certainly enough pixels and CPU power for that.
An alternative approach is the Pop-up screen, which puts apps in a movable, floating window so you can drag and drop content from one to the other.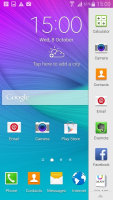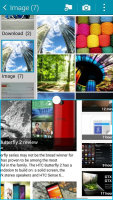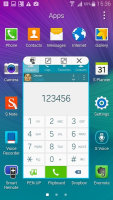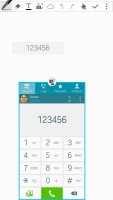 Multi-Window and floating apps for multitasking
Quicker yet multitasking options use the S Pen - the Air Command pop up appears when you pull out the stylus and lets you quickly take a note, a screenshot of a part of the display, potentially with a hand-written note.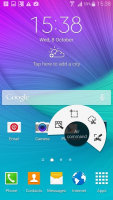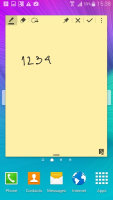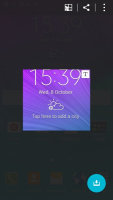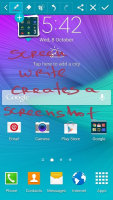 The S Pen helps with multitasking too
Switching between actual apps on the Galaxy Note 4 is similar to the upcoming Lollipop experience where a 3D carousel of apps is shown. This lets you see only four apps at a time, for three of which you can actually see more than the app name.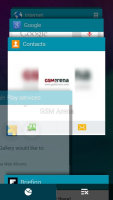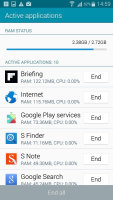 Lollipop style app switcher • Samsung's task manager
On the iPhone 6 Plus the app switcher is identical to that of the smaller iPhone and shows only three apps (one plus two halves, actually) in portrait mode and four apps in landscape mode. There are shortcuts to your favorite and recent contacts, which may be of some help too.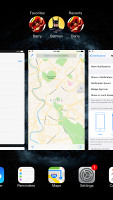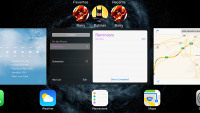 Apple's app switcher now supports landscape orientation
One-handed use
Big screens are a boon, but also an inconvenience for one-handed use. This is an issue the Galaxy Note 4 has been dealing with for years and its answer is to scale down the screen (which you can move and resize) to make sure you can reach everything. Even the hardware keys can be swapped for on-screen alternatives.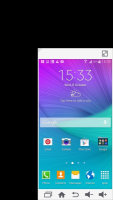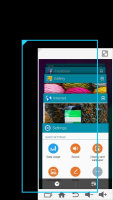 Samsung scales the whole screen and enables on-screen buttons
Apple's solution, Reachability, is more limited - you double tap the Home button (not double-press!), which slides the screen down half way. By Apple design, apps put the Back button (along with other controls) on the top row of the screen, which worked great for 3.5"-4" screens but not so great on the 5.5" iPhone 6 Plus.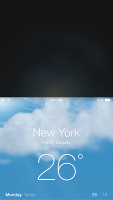 Reachability feels like a bit of a kludge
Search
With booming storage options, sometimes it can be hard to find your files, which is where Spotlight comes in. It will search more than files though, it will go through Wikipedia, IMDb, assorted news sources and Apple stores (for apps, music, books and more).
A similar functionality is offered by Samsung's S Finder. The results list files, installed apps, contacts, settings and you can do a Google search, but that's an extra tap.
Digital assistants
Of course, you don't have to type, both phones have digital assistants, which understand spoken requests. Siri gained a new skill, song recognition, but you can ask it too to search for something, turn off Wi-Fi or increase the brightness, Siri can even help you with booking a restaurant. Her conversational skills are not bad either, it can answer questions about games, teams, players, movies, actors and more.
S Voice is less chatty but it can handle commands too, like calling someone, playing a track or launching an app It can take down notes or schedule an event in the calendar, even type up your SMS for you or answer a question.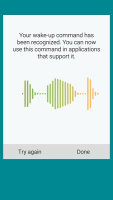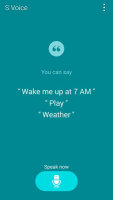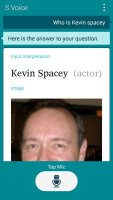 Samsung maintains its own digital assistant, despite Google Now
Working with computers
One of the coolest new features in the new iOS is called Continuity. It makes the transition between Apple devices seamless - you can start typing an SMS on your iPhone and finish it on your MacBook. Or you could be reading a web page on your Mac and continue on your iPhone 6 Plus if you have to leave. This syncing works for other apps too, including Mail, Pages, Numbers, Keynote and Maps.
While not quite as polished, Samsung SideSync offers similar functionality but in very a different way. It lets you use your computers keyboard and mouse to interact with your Galaxy, including text copy and paste, even moving files between the devices. You can mirror the phone's screen on the computer and operate it remotely.
Misc
As of iOS 8, Apple allows users to install third-party keyboards - finally you get access to Swype and all the other ways of typing on a touchscreen, rather than just a simulation of a physical keyboard.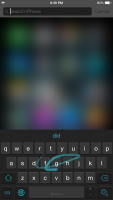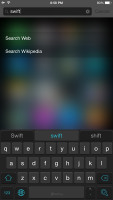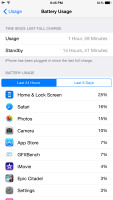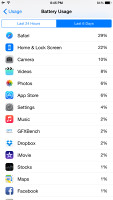 Third party keyboards now welcome on iOS 8 • battery stats are enabled too
Another iOS 8 nicety is per-app battery usage report. Of course, those are two things that Android has had for years, but at least Apple's platform is closing the gap.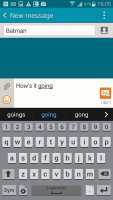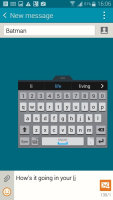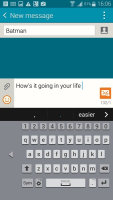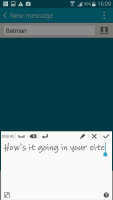 Samsung offers a floating mini keyboard, one-handed keyboard and handwriting recognition out of the box
Winner: Samsung Galaxy Note 4. Phablet interfaces is something Samsung has been dealing with for three generations before the Note 4 and TouchWiz is quite flexible in this - you can have multiple apps, floating apps or maybe just shrink the screen temporarily. The Private mode is a great addition too.
Apple did enable landscape mode and Reachability, but overall it's like using a stretched out version of the iOS interface you get on a 4" iPhone 5s. The perks of iOS 8 are pretty nice - widgets, battery stats, etc. - but there are only a few things that Android didn't have already.