The Big Bang
iPhone 6 Plus vs. Galaxy Note 4: The Big Bang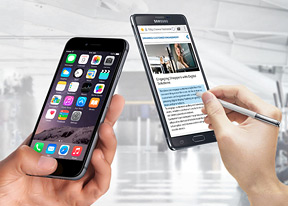 Multimedia package
Gallery
Apple updated the Photos app with iOS 8.1 and brought back the Camera Roll and introduced the iCloud Photo Library (in beta). Another change is the phone will alert you if you are running out of space during time lapse video capture.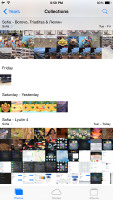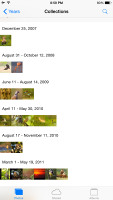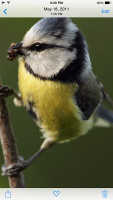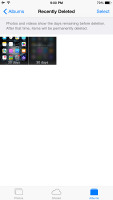 Photos got its camera roll back, features iCloud Photo Library support
Anyway, the app itself organizes photos by time and location into so-called Moments. The Recently Deleted album can be a lifesaver if you accidentally delete a photo. There's a built-in image editor, which includes an auto-enhance feature.
Other than the iCloud Photo Library, you can also share photos with Photo streams, which resemble a mini social network.
The Galaxy Note 4 gallery works with Facebook, Picasa and Dropbox for cloud albums. The photos are grouped by time and location too, but you can also sort them by who is in the photo - both people and pets! - and other types of photos like scenery, food, cards and more.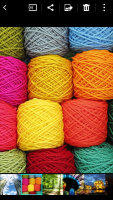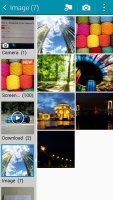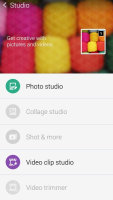 Samsung's gallery and Photo studio apps
Local connectivity has DLNA for easy sharing with smart devices (Smart TVs or computers).
The built-in editing functions include Studio, which edits photos taken with Samsung's special camera modes (Shot & more), creates collages. The app edits videos too.
Music player
The Samsung Galaxy Note 4's music player is one of the most advanced we've seen to date. It supports lossless FLAC out of the box and DLNA playback. Songs are sorted into the usual categories, but the Music square is a visual way to create a playlist with a certain mix of vocal/instrumental songs that are heavy on the bass or more balanced.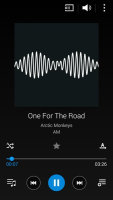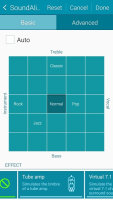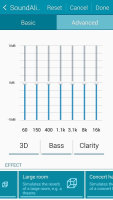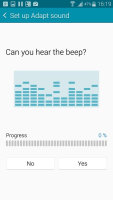 Samsung's music player is an audiophile's dream
There's a 7-band equalizer or you can use another visual square, plus toggle all sorts of effects. More importantly Adapt sound adjusts the equalizer to your headphones and your hearing, while Smart volume levels the volume between tracks.
Apple's music player also supports a lossless format, the proprietary ALAC format, but luckily converting between lossless formats doesn't affect quality, it just takes time. There are no clever ways to build a playlist, not even an equalizer.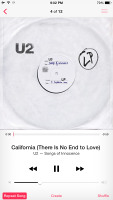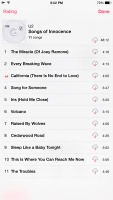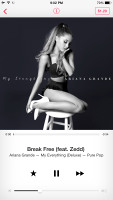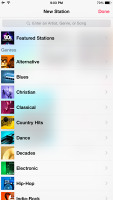 iPhone 6 Plus music player and iTunes Radio
Apple is pushing iTunes Radio, which is an ad-supported streaming service - every 7-10 songs get interrupted by a 15 second commercial. If you are using iTunes Match there will be no ads.
Video player
The video player actually has even fewer features. It heavily relies on iTunes as it supports only one video format and it needs the desktop app to convert videos to that. As we already mentioned in the Connectivity chapter, the Lightning port can output 1080p video via an adapter.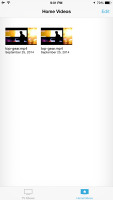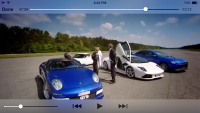 The iPhone 6 Plus video player relies heavily on iTunes for video transcoding
Samsung again goes all out with the features and supports a good deal of formats. The audio codec support is pretty spotty though, typically nothing multichannel (AC3/DTS) will work. There's extensive subtitle support and you can put the video in a popup to watch while you use another app.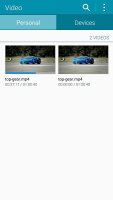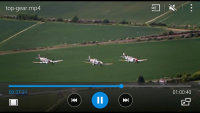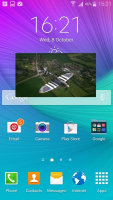 Samsung offers richer codec support and a popup video player
The MHL-enabled microUSB 2.0 port can output 2160p video with the right adapter and the Snapdragon 805 chipset is quite capable of playing it. Strangely, surround sound output is supported but you'll have to resort to a third-party video player for that.
Winner: Samsung Galaxy Note 4. We're willing to call the gallery a draw (both have exciting exclusive features), but the music and video players go in favor of the Galaxy.
The Apple iPhone 6 Plus does well enough in Apple's ecosystem - iTunes sells properly encoded video and audio files, but going outside that is tricky. We really would have liked a few basic necessities like an equalizer though.
Loudspeaker
We expressed some concerns about the Galaxy Note 4 speaker placement, but Samsung used such a powerful speaker that you'll hear it no matter what, even if it's a little muffled. Apple meanwhile disappoint with a Below average loudspeaker.
| | | | | |
| --- | --- | --- | --- | --- |
| Speakerphone test | Voice, dB | Pink noise/ Music, dB | Ringing phone, dB | Overall score |
| Apple iPhone 6 Plus | 67.3 | 65.7 | 66.5 | Below Average |
| Sony Xperia Z3 | 69.7 | 66.6 | 67.2 | Average |
| Huawei Ascend Mate7 | 66.7 | 65.7 | 75.7 | Good |
| Samsung Galaxy S5 | 66.9 | 66.6 | 75.7 | Good |
| Oppo Find 7 | 69.8 | 70.3 | 75.8 | Good |
| LG G3 | 70.2 | 66.6 | 80.2 | Good |
| Nokia Lumia 930 | 76.7 | 69.7 | 77.2 | Very Good |
| Samsung Galaxy Note 4 | 74.7 | 73.5 | 81.6 | Excellent |
Winner: Samsung Galaxy Note 4. This was clean cut - the Note 4 has one of the most powerful loudspeakers we've encountered recently.
Not that iPhones usually have booming loudspeakers, but we were hoping for something more than below average.
Audio output is closely matched
The Samsung Galaxy Note 4 and the Apple iPhone 6 Plus are both excellent performers when it comes to using them as audio players. Both of them have nicely clean output and high volume levels, meaning even audiophiles will be very pleased with either.
The Samsung Galaxy Note 4 still manages to take the lead with the first test - the active external amplifier. It has slightly better scores all over the field, but notably better stereo quality.
Plug in a pair of headphones and the picture slightly changes. The Galaxy Note 4 experience a more pronounced rise in its stereo crosstalk and it ends up behind the iPhone 6 Plus on this occasion.
And here go the results so you can see for yourselves.
| | | | | | | |
| --- | --- | --- | --- | --- | --- | --- |
| Test | Frequency response | Noise level | Dynamic range | THD | IMD + Noise | Stereo crosstalk |
| Samsung Galaxy Note 4 | +0.01, -0.04 | -96.6 | 93.4 | 0.0015 | 0.0086 | -94.2 |
| Samsung Galaxy Note 4 (headphones attached) | +0.03, -0.02 | -96.8 | 93.5 | 0.011 | 0.035 | -55.2 |
| Apple iPhone 6 Plus | +0.04, -0.04 | -94.0 | 94.0 | 0.0013 | 0.0064 | -72.0 |
| Apple iPhone 6 Plus (headphones attached) | +0.10, -0.04 | -94.0 | 93.9 | 0.0016 | 0.087 | -64.1 |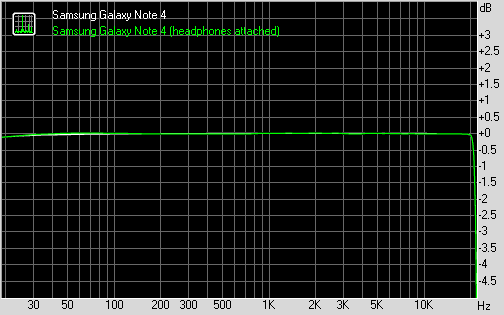 Samsung Galaxy Note 4 frequency response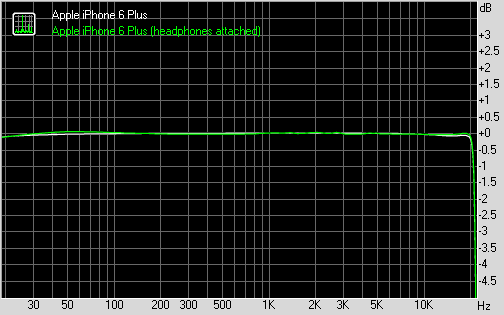 Apple iPhone 6 Plus frequency response
You can learn more about the tested parameters and the whole testing process here.
Winner: Samsung Galaxy Note 4 (only just). Had we not have scores for each and every part of this test we would have called it a tie and that might actually make more sense to the majority of you as the real-life experience is perfectly matched. Yet, since we get to compare actual numbers, we can't help it but see that the Galaxy Note 4 comes out ahead in the majority of them.