Stepping up
Sony Xperia Tablet Z review: Stepping up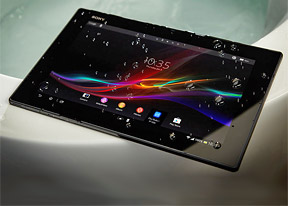 Organizer without Office doc editing
The Sony Xperia Tablet Z comes with the OfficeSuite document viewer pre-installed. We were a little disappointed that there's no document editor out of the box. That's a paid upgrade.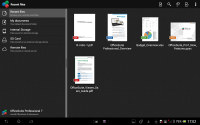 The OfficeSuite app doubles as a file explorer
Still, the app will view any Office document (DOC, XLS, PPT) and also PDF files. It uses a file browser split-screen interface that makes finding files quite easy and you can do basic file management with it.
The Calendar app makes excellent use of the big screen thanks to the split screen interface. There are four view modes - Day, Week, Month and Agenda. In Day and Week views, there's a tiny calendar on the right that shows the full month and puts a dot below each day with events in it.
Below that calendar is a list of all calendars that are synced with the device and they are color coded. You can also tap on them to hide the events from a particular calendar to reduce clutter.
In Month view, the right panel shows the Agenda. In Agenda view, the left panel shows all events on the agenda and the right panel shows the event's details.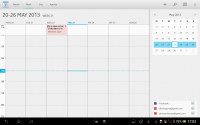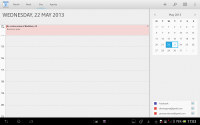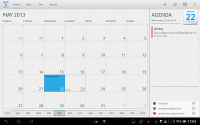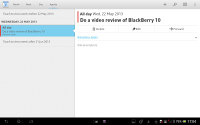 The Calendar app makes full use of the big screen
The Calculator app is not as good at utilizing the 10.1" screen. It shows big buttons with the numbers 0-9, basic and some advanced math operators. You can use the Small Calculator instead, that one is small and has only the basic functions.
The Alarm & clock app lets you use the tablet as a desk clock and handles alarms too. You can set multiple alarms, each with a different repeat time and ringtone.
This app also has a World clock tab, which shows the time in multiple cities plus weather info. Next up are the Stopwatch and the Timer tabs, which handle basic time measurements.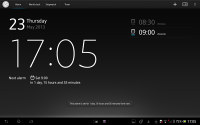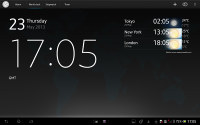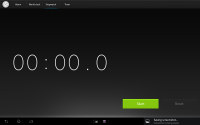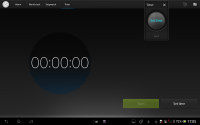 Creating an alarm through the Desk clock app
There's also a Small app version of the timer, but it keeps separate time from this app. Also, if you close it, it effectively cancels the timer (even if you just launched another Small app).
Some pre-installed applications, big and Small
The Sony Xperia Tablet Z came with the Facebook app, but the Socialife app can handle your Facebook, Twitter and YouTube accounts all at once. You can browse the combined stream of updates or by service.
The "You might like" option finds news items that it thinks you would be interested in, while Most popular pulls the hottest articles at the moment.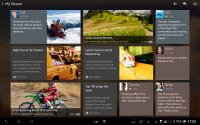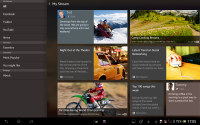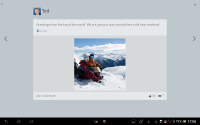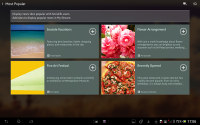 Socialife combines Facebook, Twitter and YouTube update into one stream
Individual posts can be shared and starred and along with other actions supported by the service, e.g. like and comment on Facebook, reply or retweet on Twitter.
The Small apps have a couple of functions that aim to rival the Samsung Galaxy Note 10.1. The first one is called Clip Manager- it snaps a screenshot and lets scribble notes on top with several colors and an adjustable brush size. You can tag the result to help find it easier later or share it.
Then there's the simpler Notes Small app, which lets you quickly type in a note. That has no fancy drawing functions, you can use the full Notes app for that instead. That one lets you change font size, color and style, add checkboxes to items plus add multimedia like pictures, sounds, clips and even a map.
The recorder Small app does not have a big app alternative, but it does a good enough job of recording you notes.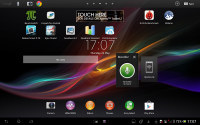 The Recorder is available only as a small app
There's also a file transfer app, which allows you to easily transfer files between the built-in memory and the SD card or even attached mass storage devices. It's not a full-blown file manager though.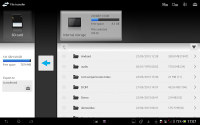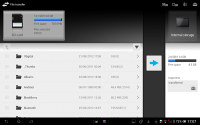 File Transfer is a basic file browser for copying files to and from the built-in memory
Sony has also included a Backup & restore app that can handle contacts, messages, bookmarks and history, clock and calendar stuff, notes and system settings, accounts and so on. If you pop in a microSD card, it will also backup your photos, videos and music, plus all apps you've downloaded and their data.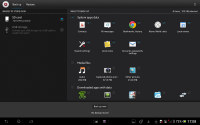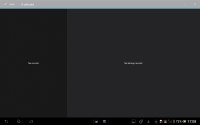 The Backup & restore app is a great tool to have
You can use checkboxes to select what you want to back up (so you don't waste space by backing up your music library over and over). Besides internal storage and microSD cards, you can also back up and restore from external USB storage.
Google Maps and Wisepilot
The Sony Xperia Tablet Z comes with a GPS and GLONASS receiver, which got a satellite lock in just about a minute with A-GPS turned off. A-GPS can speed this up quite a bit, but requires Internet access.
The Xperia Tablet Z comes with the latest Google Maps and Navigation, which allow for easy caching of areas of the map for offline use along with offline re-routing. This means you can use Maps without a data connection and even if you do need to go online, the vector maps are very data efficient.
For now though, turn-by-turn voice guidance using Google Maps Navigation is only available in select countries. Google keeps adding new countries to the list, but if you don't live in one of them, the best you can do is plan a route in advance and keep an eye on your current location during your trip.
Quite naturally, the app also supports the Street View mode. If it's available in the area you're interested in, you can enjoy a 360-degree view of the surroundings. When the digital compass is turned on it feels like making a virtual tour of the location.
If Google Maps doesn't do it for you, there's also Wisepilot preinstalled. It's just a trial version and you'll soon have to buy a license - that costs €3 for a month in Europe, €20 for a full year. For North America it's $3 for a month, $20 for a year.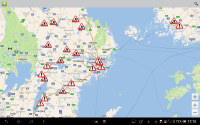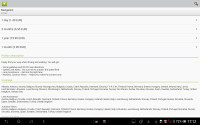 A trial version of Wisepilot is available out of the box
Wisepilot uses online maps, but you can enable the roaming feature that reduces data usage. Or pay €5 / $5 to store maps offline for 10 years. The app also has other features like speed camera warnings, live traffic and Wcities (alerts you to current events, exhibitions, concerts and so on).
Play Store for tablets
The Google Play Store offers a huge number of apps, so you can be sure that you won't be short of software to install on your Xperia Tablet Z. The Store has a dedicated tablet interface and special categories like Tablet 101, Tablet Spotlight and Sony Select.
There are featured apps, editors' choice and staff-recommended apps in addition to the usual top free and top paid. The Store will also recommend apps based on your download history and what your friends have liked and downloaded.
The top new paid and top new free lists are worth checking out too and you shouldn't forget the trending apps. Naturally, there is a built-in search and apps are broken down into categories so you don't get lost.