Stepping up
Sony Xperia Tablet Z review: Stepping up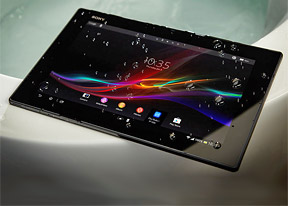 Google Now
As an integral part of Android Jelly Bean Google Now is present on the Sony Xperia Tablet Z. You can get to it by holding the home button.
In addition to being able to recognize voice commands, Google Now will learn from your usage patterns, and display relevant information. For example, if you search for a particular sports team frequently, Google Now will display information for upcoming games you might want to watch.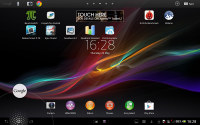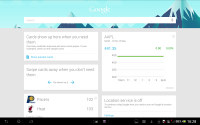 Google Now predicts what info you need right now
The service interacts with you by generating cards which are displayed on your screen and give you a short overview of information it believes is relevant to you. Going to work in the morning? Google Now knows this and lets you know there's a big traffic jam on your usual way to the office, and will offer you an alternate route. This extends to a multitude of other areas, including weather, traffic, public transit stations, and nearby points of interest.
You can either type or talk to Google Now and the app will give you one of its aforementioned info cards (if available) and read you its contents aloud (you can disable this from the app settings). If there's no card to help with the answer to your question, Google Now will simply initiate a Google web search instead.
There is also a Google Now widget which generates information for you based on what your interests are.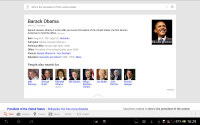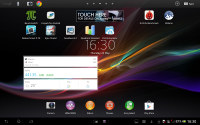 Google Now has a card-based interface • Google Now widgets
Synthetic benchmarks
The Sony Xperia Tablet Z uses the same chipset as its phone counterpart and has almost the same screen resolution - 1920 x 1200 vs. 1920 x 1080 - so we expect to see similar performance.
The CPU benchmarks, Benchmark Pi, Linpack and Geekbench 2 indeed put the two close together, though the Xperia Z / ZL duo has a slight advantage in Linpack. Still, it has a comfortable lead on the Google Nexus 10 tablet in the first two tests, but loses to it in Geekbench 2.
Benchmark Pi
Lower is better
Samsung Galaxy S4
132
LG Optimus G Pro
147
HTC One
151
Sony Xperia Tablet Z
262
Sony Xperia ZL
264
Sony Xperia Z
264
HTC Butterfly
266
Oppo Find 5
267
HTC One X+
280
LG Optimus G
285
Samsung Galaxy Note II
305
Google Nexus 10
350
Samsung Galaxy S III
359
Nexus 4
431
Linpack
Higher is better
Samsung Galaxy S4
788
LG Optimus G Pro
743
HTC One
646
Sony Xperia ZL
631
Sony Xperia Z
630
HTC Butterfly
624
LG Optimus G
608
Oppo Find 5
593
Sony Xperia Tablet Z
587.7
Samsung Galaxy Note II
214.3
Nexus 4
213.5
HTC One X+
177.7
Samsung Galaxy S III
175.5
Google Nexus 10
172.1
Geekbench 2
Higher is better
Samsung Galaxy S4
3227
LG Optimus G Pro
3040
HTC One
2708
Google Nexus 10
2543
Sony Xperia Tablet Z
2200
Sony Xperia Z
2173
HTC Butterfly
2143
Sony Xperia ZL
1995
Samsung Galaxy S III
1845
LG Optimus G
1723
iPhone 5
1601
AnTuTu and Quadrant, which test the whole system (CPU, GPU, storage, etc.), continue this trend - the Xperia Tablet Z performs closely to the phone Xperia Z and ahead of the Nexus 10.
AnTuTu
Higher is better
Samsung Galaxy S4
24716
HTC One
22678
Sony Xperia Z
20794
Sony Xperia ZL
20743
Sony Xperia Tablet Z
20216
LG Optimus G Pro
20056
HTC Butterfly
19513
Samsung Galaxy S III
15547
Oppo Find 5
15167
Google Nexus 10
12695
Quadrant
Higher is better
Samsung Galaxy S4
12376
LG Optimus G Pro
12105
HTC One
11746
Sony Xperia Z
8075
Sony Xperia ZL
7912
HTC One X+
7632
LG Optimus G
7439
Sony Xperia Tablet Z
7215
Oppo Find 5
7111
HTC One X
5952
Samsung Galaxy Note II
5916
Samsung Galaxy S III
5450
Nexus 4
4567
Google Nexus 10
4385
GLBenchmark shows a playable 32fps framerate on the older 2.5 Egypt benchmark (a few frames per second ahead of the Z / ZL phones), but the new, heavier 2.7 T-Rex benchmark drops the framerate down to 13fps. This benchmark is considerably heavier than current generation games.
The Nexus 10 is ahead with its Mali-604 GPU, but its native screen resolution is much higher than the WUXGA of the Xperia Tablet Z so it takes a more powerful GPU to run.
GLBenchmark 2.5 Egypt (1080p off-screen)
Higher is better
Apple iPad 4
54.4
Google Nexus 10
40
Samsung Galaxy S4
40
HTC One
34
Sony Xperia Tablet Z
32
Asus Padfone 2
31
Oppo Find 5
30
Sony Xperia ZL
29
Sony Xperia Z
29
LG Optimus G
29
HTC Butterfly
27.9
Apple iPhone 5
27
Nexus 4
26
Samsung Galaxy Note II
17
Samsung Galaxy S III
15
HTC One X+
12
HTC One X
9
GLBenchmark 2.7 T-Rex (1080p off-screen)
Higher is better
Samsung Galaxy S4
17.1
Apple iPad 4
16.8
Google Nexus 10
13.9
LG Optimus G
13.9
Sony Xperia Z
13.5
Sony Xperia Tablet Z
13
Sony Xperia ZL
12.8
Epic Citadel is closer to what current Android games are like and shows the Tablet Z close to the 60fps software limit. That means that most of the time it runs at 60fps, with more complex areas dropping lower but without major drops. Here you can see the high resolution of the Nexus 10 work against it, making it just about even with the Tablet Z.
Epic Citadel
Higher is better
Samsung Galaxy S4
57.1
HTC One
56.4
Sony Xperia Tablet Z
56.4
Sony Xperia Z
55.6
Sony Xperia ZL
55.4
LG Optimus G Pro
54.2
Nexus 4
53.9
Asus Padfone 2
53.4
LG Optimus G
52.6
Google Nexus 10
52.1
Samsung Galaxy S III
41.3
Oppo Find 5
38.6
SunSpider shows relatively sluggish JavaScript performance, but that's usually the case with Chrome for Android. The stock browser performs better, but is not available on the Xperia Tablet Z. The Nexus 10 is slightly faster.
Browser Mark 2 puts the tablet close to the current Android flagships as does Vellamo. The Sony tablet pulled ahead of the Google Nexus 10 in those two benchmarks.
SunSpider
Lower is better
Samsung Galaxy S4
810
Samsung Ativ S
891
Apple iPhone 5
915
Nokia Lumia 920
910
Samsung Galaxy Note II
972
HTC One X+
1001
LG Optimus G Pro
1011
Motorola RAZR i XT890
1059
HTC One
1124
Samsung Galaxy S III
1192
Sony Xperia ZL
1290
Sony Xperia Z
1336
LG Optimus G
1353
HTC Butterfly
1433
Google Nexus 10
1462
Sony Xperia Tablet Z
1629
Nexus 4
1971
BrowserMark 2
Higher is better
LG Optimus G
2555
Samsung Galaxy S4
2438
HTC One
2262
Sony Xperia Tablet Z
2170
Sony Xperia ZL
2107
Sony Xperia Z
2093
LG Optimus G Pro
1801
Oppo Find 5
1797
Nexus 4
1794
Nokia Lumia 920
1774
Google Nexus 10
1773
HTC Butterfly
1475
Samsung Galaxy S III
1247
Vellamo
Higher is better
Samsung Galaxy Note II
2418
HTC One
2382
Sony Xperia Tablet Z
2265
Sony Xperia Z
2189
Sony Xperia ZL
2186
HTC One X (Tegra 3)
2078
Samsung Galaxy S4
2060
Google Nexus 10
1929
HTC Butterfly
1866
Samsung Galaxy S III
1641
LG Optimus G
1522
Nexus 4
1310