Stepping up
Sony Xperia Tablet Z review: Stepping up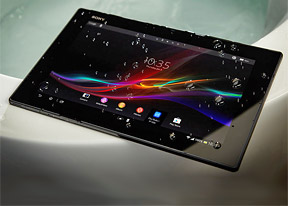 Controls and other elements
Above the big 10.1" screen of the tablet is a 2.2MP front-facing camera that can record 1080p video @ 30fps, just like the main camera.


2.2MP front-facing camera above the display
Almost all physical controls, ports and other doodads on the Sony Xperia Tablet Z fit on its thin sides.
The signature aluminum Power/Lock key is on the left, above the volume rocker. Both are easy to locate and press. The volume rocker has a nub on one end to indicate "volume up" - that's fixed and doesn't change even if you use the tablet upside down (which is no problem as the screen rotates along with the on-screen controls).
Between the Power/Lock key and the volume rocker is the small status LED. Its visibility isn't great - it's small and it's located on the side, we would have preferred it to be on the front.
Anyway, also here (above the Power/Lock key) is the first of three plastic flaps, this one covers the 3.5mm audio jack. Further down are the two pogo pins that are always exposed and can charge the tablet if you put it in a cradle (sold separately, of course).




Left side of the Xperia Tablet Z: 3.5mm audio jack, Power/Lock key, LED notification light, volume rocker and pogo pins
The Sony Xperia Tablet Z has two loudspeakers located at the bottom corners of the tablet. Each speaker has two grilles, one at the bottom and one on the side. They do spread out the sound fairly well, but the speakers themselves don't sound that loud (we'll test them later on in this review).



The two loudspeakers have two grills each, on the bottom and on the side
The other two flaps are at the bottom. The first (left to right) is the one guarding the MHL-enabled microUSB port. We found that L-shaped USB plugs can be used without a problem (sometimes such flaps get in the way of those).
The next flap covers the card slots - microSIM and microSD card slots for the LTE-enabled version of the Tablet Z and just a microSD slot for the W-Fi only version. The microSIM card slot has a plastic tray that holds the card, which is easy to pull out with a fingernail, no special tool needed.




At the bottom: loudspeaker grills, microUSB port, microSIM and microSD card slots
Also on the bottom, there is one of two mic pinholes, the other one is on top. There's nothing of interest on the right, except, of course, for one of the two grilles of the right loudspeaker.
At the back, there's only the 8MP camera lens. It's in the upper right corner of the back and is flush against the surface, allowing the tablet lay flat on a table.



Sony Xperia Tablet Z's back • 8MP main camera
The Xperia Tablet Z is NFC-enabled, the sensor is located in the middle of the bottom part of the back. The NFC logo is there to remind you where you need to put NFC tags and phones.
Hidden underneath the plastic is a Li-Po battery of 6,000mAh. That's not a lot considering phones have batteries at near half the capacity and the Nexus 10 has a 9,000mAh unit. The iPad 4 has an even bigger 11,560mAh battery.
Battery life
We ran two of our battery tests on the Sony Xperia Tablet Z (it doesn't support voice calls) to find out how well the relatively small 6,000mAh battery holds up.
In the web browser test, the Tablet Z lasted a little over 7 hours, which is nearly two hours less than the Apple iPad mini. Keep in mind that the iPad mini has a much smaller screen, which reduces battery usage. Also, we do this test over Wi-Fi, if you use the Xperia Tablet Z on an LTE network the battery will be drained quicker.
Web browsing
HTC One
9:58
Apple iPhone 5
9:56
Motorola RAZR MAXX (ICS)
9:12
Apple iPad mini
9:05
Samsung Galaxy Note II N7100
8:48
Nokia Lumia 810
8:20
Asus Padfone 2
8:20
Nokia Lumia 610
8:01
HTC One X+
7:56
Sony Xperia E dual
7:42
Samsung Galaxy S III mini
7:38
Nokia Lumia 720
7:37
Samsung Galaxy S4 (S600)
7:24
Sony Xperia Tablet Z
7:19
Motorola DROID RAZR MAXX
7:23
HTC Radar
7:17
Nokia Lumia 520
7:15
Samsung Galaxy Grand Duos
7:09
Samsung Galaxy Express
7:09
Motorola RAZR i
7:06
Samsung Galaxy S4 (Octa)
6:58
Apple iPhone 4S
6:56
HTC One V
6:49
LG Optimus G Pro
6:40
Samsung I9105 Galaxy S II Plus
6:40
HTC Droid DNA
6:40
Samsung Galaxy Premier
6:40
Motorola Atrix HD
6:40
BlackBerry Curve 9380
6:40
Sony Xperia Z
6:37
Samsung Galaxy Xcover 2
6:35
BlackBerry Z10
6:27
Samsung I9300 Galaxy S III (JB)
6:27
HTC Butterfly
6:24
Sony Xperia SP
6:18
Samsung i937 Focus S
6:15
Nokia Lumia 510
6:13
Sony Xperia ZL
6:04
HTC Windows Phone 8X
6:01
Sony Xperia ion LTE
5:56
Samsung Galaxy Fame
5:55
Samsung Rugby Smart I847
5:53
Pantech Burst
5:51
Samsung Galaxy S Blaze 4G
5:45
HTC Desire V
5:44
HTC Evo 4G LTE
5:41
Nokia Lumia 920
5:40
Samsung Wave 3 S8600
5:34
Oppo Find 5
5:33
Sony Xperia T
5:33
Samsung Captivate Glide
5:33
Samsung I8530 Galaxy Beam
5:28
Samsung Galaxy Note LTE
5:24
Samsung Galaxy S Duos
5:23
HTC Sensation XL
5:20
Meizu MX 4-core
5:19
Samsung I9300 Galaxy S III
5:17
Sony Xperia acro S
5:16
HTC Rezound
5:16
HTC Desire X
5:16
LG Optimus G
5:15
HTC Rhyme
5:08
Samsung I9103 Galaxy R
5:07
HTC One X (AT&T)
5:03
Sony Ericsson Xperia Pro
4:50
LG Optimus Vu
4:49
HTC Vivid
4:46
Samsung Galaxy Ace Duos
4:45
Meizu MX
4:35
Google Nexus 4
4:34
Nokia N9
4:33
Acer CloudMobile S500
4:32
Nokia Lumia 820
4:24
Samsung Galaxy S II
4:24
Sony Ericsson Xperia neo V
4:20
HTC One X
4:18
Nokia 808 PureView
4:14
LG Optimus 3D Max P720
4:10
Nokia Lumia 900 for AT&T
4:10
Nokia Lumia 800
4:07
HTC Titan II (LTE)
4:05
HTC One S
4:03
BlackBerry Bold 9790
4:02
LG Nitro HD
4:00
LG Optimus 4X HD
3:59
Sony Xperia P
3:59
Nokia Lumia 710
3:51
Nokia Lumia 620
3:50
Samsung Galaxy Pocket
3:47
Samsung Galaxy Note
3:35
Huawei Ascend P1
3:23
Samsung Galaxy Nexus
3:01
The video playback time is nearly the same as the web browsing time. The Xperia Tablet Z is quite some distance behind the iPad mini, but again, on the Tablet Z you get to enjoy movies on a big WUXGA screen (so you can watch FullHD movies without upscaling).
Video playback
Motorola RAZR MAXX (ICS)
16:35
Motorola DROID RAZR MAXX
14:17
Apple iPad mini
12:51
Samsung Galaxy Premier
12:51
Samsung Galaxy S4 (S600)
12:30
Samsung Galaxy S4 (Octa)
11:29
Samsung Galaxy Note II N7100
11:27
Apple iPhone 5
10:12
HTC One
10:02
Samsung I9300 Galaxy S III
10:01
Samsung Galaxy Express
10:00
Samsung I9105 Galaxy S II Plus
10:00
Nokia 808 PureView
9:53
Samsung I8530 Galaxy Beam
9:42
Samsung Rugby Smart I847
9:34
HTC One S
9:28
Samsung I9300 Galaxy S III (JB)
9:27
Apple iPhone 4S
9:24
HTC Evo 4G LTE
9:07
BlackBerry Z10
8:44
LG Optimus G Pro
8:40
Nokia N9
8:40
HTC Butterfly
8:28
Samsung Galaxy Note
8:25
Samsung Galaxy Grand Duos
8:11
HTC One X+
8:11
Motorola RAZR i
8:11
Samsung Galaxy S II
8:00
Samsung i937 Focus S
7:55
Samsung Wave 3 S8600
7:52
Samsung Galaxy S III mini
7:46
Sony Ericsson Xperia neo V
7:45
Asus Padfone 2
7:38
Huawei Ascend P1
7:38
Sony Xperia Tablet Z
7:37
Samsung Galaxy S Blaze 4G
7:33
HTC Droid DNA
7:30
Samsung Galaxy Note LTE
7:30
Samsung Galaxy Xcover 2
7:30
Sony Xperia SP
7:27
Nokia Lumia 610
7:23
LG Optimus G
7:16
Nokia Lumia 720
6:43
Meizu MX 4-core
6:33
Nokia Lumia 620
6:32
HTC Windows Phone 8X
6:27
Sony Xperia E dual
6:27
Nokia Lumia 810
6:27
HTC Desire V
6:26
HTC One X (AT&T)
6:26
Nokia Lumia 820
6:25
Samsung Galaxy Ace Duos
6:25
Nokia Lumia 510
6:23
LG Optimus Vu
6:23
Samsung I9103 Galaxy R
6:21
Nokia Lumia 920
6:19
HTC Sensation XL
6:12
Samsung Galaxy Pocket
6:06
Samsung Captivate Glide
6:04
Sony Xperia ion LTE
6:03
Samsung Galaxy Nexus
6:02
Sony Xperia T
6:01
Motorola Atrix HD
6:01
HTC Vivid
6:00
HTC Radar
5:54
Nokia Lumia 800
5:52
Nokia Lumia 520
5:50
HTC Titan II
5:50
BlackBerry Bold 9790
5:47
HTC One X
5:45
Sony Ericsson Xperia Pro
5:44
Sony Xperia Z
5:39
Sony Xperia acro S
5:38
HTC Desire X
5:38
Pantech Burst
5:38
Sony Xperia ZL
5:28
Meizu MX
5:27
HTC Rhyme
5:23
HTC One V
5:20
Acer CloudMobile S500
5:18
Oppo Find 5
5:18
Nokia Lumia 900 for AT&T
5:18
BlackBerry Curve 9380
5:09
HTC Rezound
5:03
Samsung Galaxy Fame
5:02
Google Nexus 4
4:55
Samsung Galaxy S Duos
4:30
Sony Xperia P
4:30
LG Nitro HD
4:17
LG Optimus 4X HD
4:14
LG Optimus 3D Max P720
3:28
Nokia Lumia 710
3:27
You can learn more about our battery test here.