User interface
The Samsung Galaxy S5 and the Oppo Find 7a are both quite different in terms of software Yes, both run Android, but the Galaxy S5 is on Android 4.4 KitKat enhanced with Samsung's latest TouchWiz, while the Find 7a is on Android 4.3 Jelly Bean and has been turned into the so-called Color OS v1.2.
Here are two short videos demonstrating the interfaces of both phones as a quick reminder of what each feels like.
Differences between the two start on the lockscreen. Samsung pulled back and the lockscreen of the Galaxy S5 is quite simple - you get notifications here and a camera shortcut, but that's it. Oppo left the stock implementation that supports widgets on the lockscreen and launches the camera if you swipe to the left.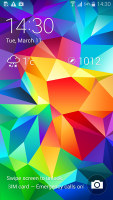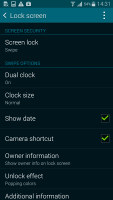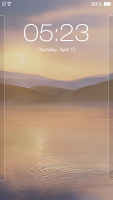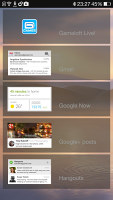 Simple lockscreen with optional fingerprint protection • stock lockscreen with widgets
Double tap to wake has recently become popular and the Find 7a implements that. To lock the phone, you double tap the Home button. The Samsung instead boasts extra security with its fingerprint scanner - it can be used to secure the lockscreen, falling back on a number password after a few unsuccessful attempts.
The Samsung also offers Private mode thanks to that scanner. It has a secure section of its storage that can only be opened with your fingerprint. This serves well for protecting sensitive files and photos. The Oppo Find 7a has guest mode instead, which can hide private contacts, photos, videos and even apps. Exiting guest mode is password protected.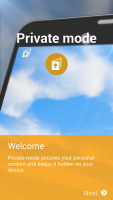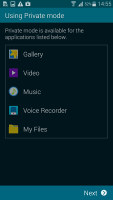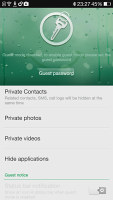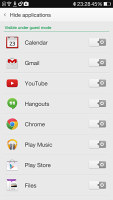 Private mode locks files away, securing them with your fingerprint • Guest mode uses a password or pattern instead
The homescreens are fairly standard. Oppo's Color OS has two Exclusive spaces - one for the camera, showing the last sapped photos, and one for the music player. Each has a row of helpful shortcuts at the bottom of the screen and each has an additional, configurable row of shortcuts available when you tap the "..." button.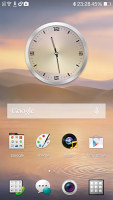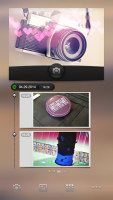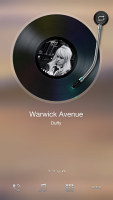 Standard homescreen • two Exclusive spaces
We've seen similar screens on Samsung's Notes, but on the Galaxy S5 this has moved to the notification area as Recommended apps These show up under certain conditions, e.g. plugging in a pair of headphones. TouchWiz has a custom homescreen too, My Magazine, which displays news and social networking updates.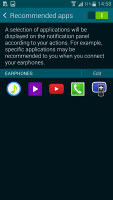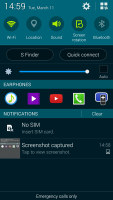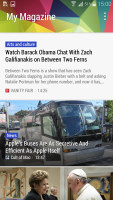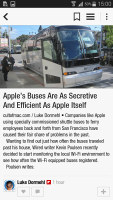 Recommended apps • My Magazine
Additional changes to the notification area (compared to stock Android) include a row of quick toggles, a brightness slider, two buttons (Quick Connect and S Voice) above the notifications. The standard two-finger swipe gesture goes straight to the expanded view showing all notifications.
Oppo's notification area is superficially similar. It has a row of shortcuts on top, with a brightness slider below and then the notifications. To view all toggles, you swipe down again. The two finger swipe gesture does something else here - it opens the Gesture panel. You draw a symbol to perform certain actions, by default O to launch the camera and V to open the flashlight, but you can add anything from sending an SMS to starting audio recording.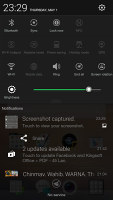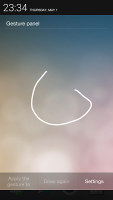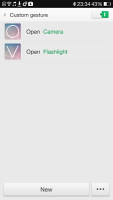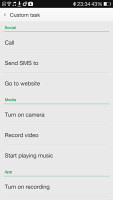 Tweaked notification area with a Gesture panel
Black screen gestures do the same, except they work when the phone is locked and the screen is off. They take a couple of seconds to trigger, but can save you some time as they bypass the lockscreen. You can, for example, draw > and skip to the next track.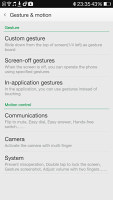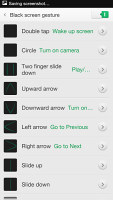 The Find 7a can detect finger gestures even when the screen is off
The Galaxy S5 has a number of motion gestures, which include calling a contact by putting the phone up to your ear, muting an alarm by covering the screen with your palm and having the phone vibrate when you pick it up and there are new, missed events. Air view allows the phone to detect your finger from about an inch away and to show tooltips and other helpful info.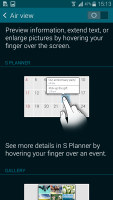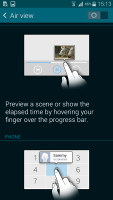 Air view shows the full text of calendar events and can preview photo folders and video timelines
The Find 7a has similar gestures for dialing, answering calls, muting alarms (by flipping the phone over instead) and disabling hands-free mode when you pick up the phone. Another cool trick is to swipe up or down with two fingers to adjust the volume. Speaking off, the minimal volume setting (one step above mute) was way too loud.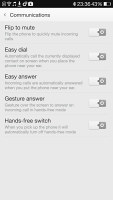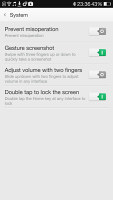 Motion gestures on the Oppo Find 7a
Samsung's proprietary Multi Window feature allows you to run two apps simultaneously. They share the screen and you can adjust the divide between them. You can also copy/paste text between apps and snap a screenshot in one to be pasted in the other.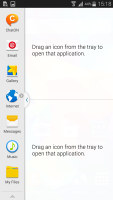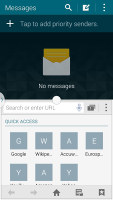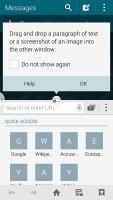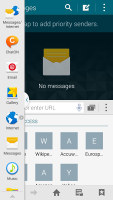 Multi Window runs two apps side by side
Galaxy S5's TouchWiz comes with a number of alternative screen modes - Simple (one homescreen pane, 6 shortcuts), Car mode (four shortcuts, always listening voice control) and Kid's mode (a custom, colorful UI that locks out the user from the rest of the phone and content).
Car mode relies on Samsung's own S Voice. You say "Hi, Galaxy" to activate it and then speak a command. You can dictate text to send in a message, control the music player, take down notes, check the weather, look for local listings (e.g. find an Italian restaurant nearby) and more.
Google Now is available on both devices, of course, and it can handle some of the spoken queries too. Still, Now focuses on displaying relevant info and searching rather than voice commands.
Winner: Samsung Galaxy S5. Samsung overloads its phones with features, but it's unlikely you'll need many third-party apps as so many things are available out of the box. S Voice and Multi Window can be quite useful at times too.
We loved Oppo's Black screen gestures. They speed up common operations noticeably and prevent the constant unlock-tap-lock cycles. Running an older version of Android is a big minus in our book though as KitKat's successor will be out soon and then the Find 7a will be two steps behind.